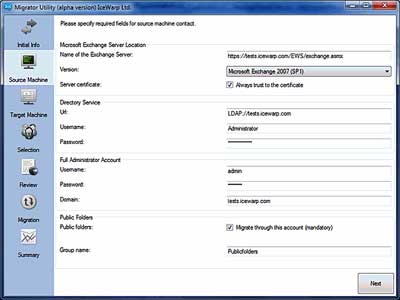 Migrate All of Your Critical Company Data
User accounts
Email messages
Address books
Calendars
Tasks
Public & shared folders
Group permissions
Distribution lists
Files
Tasks, notes and journals
IceWarp Migration Services Specialists can Help You Migrate From
Microsoft Exchange Server 2010 (SP1)
Microsoft Exchange Server 2007 (SP1)
Microsoft Exchange Server 2003
IceWarp understands the needs of organizations from SMB to enterprise to ISP that is why we focused on ease of use, and security when designing the IceWarp Exchange Migrator. The Exchange Migrator is built on the Exchange Web Services (EWS) API and therefore allows for a simple migration experience.
Exchange Migration Features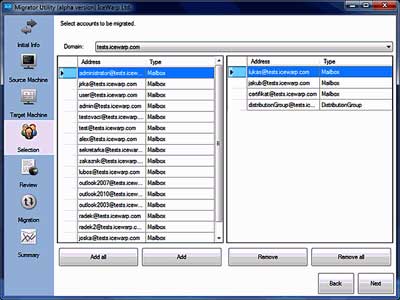 Zero Downtime – Using the IceWarp Exchange Migrator companies can migrate from their Exchange environment without incurring any downtime. During the migration process the Exchange Server is LIVE and online so users can still perform all normal activities. This allows for a seamless cut-over.
No Duplication – Companies can migrate multiple times to first ensure all users and data are properly migrated before cutting over to the new system. The migrator keeps an internal cache of the information already migrated so administrators can run the migration multiple times to grab any new items since the last migration without fear of duplicating the already migrated data.
All Data Synchronized – The migrator will allow companies to easily migrate their users, Groups, Mailboxes, Contacts, Calendars, Notes, Tasks, and Journals from their existing Exchange server to IceWarp.
User Clean-Up – Other migration tools require all users to be migrated even though you may no longer need them. The IceWarp Exchange Migrator allows you to choose the users you wish to migrate affording any administrator the option to leave unused accounts out of the migration.
Network Migrations – Using the migrator you can migrate from your current Exchange server on the network to any other machine on the internal or external network running IceWarp (Speed will vary).
Cross Platform Migrations – IceWarp is a multi-platform product and therefore companies can move from Exchange to IceWarp on both Linux and Windows.
Exchange Requirements
Exchange 2007-SP1 / 2010 – The IceWarp Exchange Migrator is only capable of migrating from Exchange 2007 or 2010. Customers running 2003 can first migrate their mailboxes to Exchange 2007/2010 and then use the migration tool to move to IceWarp. This is a common scenario, many companies have moved to IceWarp from Exchange 2003. More information can be given upon request
64bit Operating System – The target machine needs to be running a 64bit operating system (Windows or Linux).
.NET 3.5 SP1 – The .NET 3.5 SP1 framework is required on the target machine running IceWarp.
In order to be considered a viable Exchange replacement or alternative you must provide a fully functional migration allowing the Exchange customer to move all user data without downtime and a lot of manual work on the behalf of the administrator. IceWarp has accomplished this!
IceWarp Messaging Server is a flexible, low cost alternative to Microsoft Exchange and with our Exchange Migrator, migrating to IceWarp is easy.
Centrally manage the migration for full control to do a bulk or phased migration
Protect against data loss by preserving data on the Exchange server as well
Wizard based interface is tool is easy to use cutting down on time and complexity
Detailed reporting and logging allows administrators to quickly diagnose any issues
Flexibility to choose which data to migrate selectively if needed
Full SSL connection support to ensure your data is secure during the migration
Whether you have hundreds, thousands, or 10's of thousands of users, any organization can easily transition to IceWarp Messaging Server from Microsoft Exchange easily and confidently. Want to learn more, contact us today for a free one on one product demo and to discuss the planning and execution of your Exchange Migration with our engineering team. Please fill out the contact form below and we will get back to you promptly.