IP Telephony
IceWarp VoIP SIP Server provides users with the Skype-like functionality they have become familiar with, but optimized for business use over their existing private network infrastructure or over the Internet. It comes with a web-based softphone immediately available to all company users, with dialing as easy as entering an email address.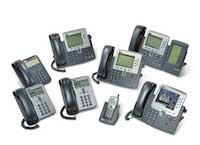 For Softphones and IP Phones
IceWarp VoIP solution delivers compatibility with most existing SIP phones, hardware or software-based, leveraging the existing investments into IP telephony and allowing users to choose the best communication method when at their desks or when roaming. Presence status and call-to-email address provides an easy way to quickly setup a conference call or speak to their colleagues.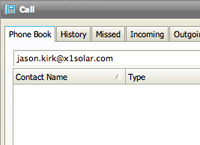 IceWarp WebPhone – Web VoIP Client
IceWarp WebClient includes IceWarp WebPhone, a unique web-based VoIP / SIP client. It delivers the power to speak with others, without the need to deploy & configure hardware or software. IceWarp WebPhone is quickly activated within IceWarp WebClient with one click, and is entirely free to all users of the IceWarp Unified Communications Server.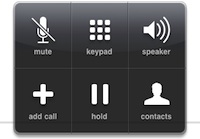 Full-Featured PBX Replacement
The VoIP functionality is designed as a highly integrated voice system to provide our SMB customers with a full-featured UC solution, including IVR, Voicemail, Call Recording and Echo Service.
Auto Attendant/IVR
IVR makes it possible for companies to create auto attendants for their inbound calls. You can create call queues and have the attendant route based on recorded messages and interaction via DTMF signaling.
Voicemail
Voicemail users have the ability to record greeting messages and allow callers to leave messages, which would be automatically sent to their email account with the MP3 message attached.
Global Call Recording
For quality assurance most companies choose to record all calls. All calls can be recorded, converted to MP3 and archived or listened to at any time.
Echo Service
Like the service seen when using Skype you can record a message and have it played back to you. This helps users and administrators test their VoIP server and ensure two-way audio is being delivered.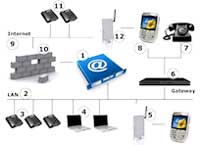 PBX Integration
By engaging a Voice-over-IP gateway, Skype ® gateway, or router to PBX, companies can enable their FXO analog telephones for Internet calls without additional wiring or change of equipment. Those who already own a different VoIP solution, such as Asterisk ®, will appreciate the rich alternatives of using it in place of the built-in SIP server, configuring it as one of the gateways, or making it accessible for WebPhone users as is.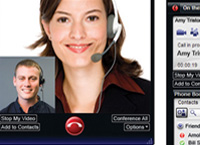 Desktop Video Conferencing
IceWarp SIP / VoIP Server supports video conferencing in products such as CounterPath's Bria ® or X-lite ® with no need for specialized knowledge. IceWarp's radical level of integration is delivered through one-click deployment, error-free operation and requires no special settings to deploy, making it the ideal solution for enterprises of all sizes.