WebClient Features
IceWarp WebClient also includes personal certificate management, SMS text messaging, File folder mapping, a Web RSS reader, multi-account support for POP3 & IMAP, customizable homepage, file sharing & integration with Windows as the default email client.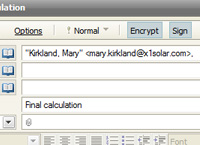 SSL and MIME Certificates
WebClient includes support for PEM, PKCS12, PKCS7 certificate formats, certificate upload/downlo­ad/extraction from email, multiple certificates per contact with automatic selection for decryption/ve­rification, add/delete/view certificate, add certificate to contact context menu, and an S/MIME icon set.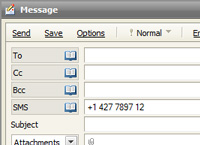 SMS – Text Messaging with Mobile Devices
Using IceWarp WebClient's WebSMS interface, the entire organization can easily send text messages (SMS) to any mobile phone user through a single SMS enabled device connected to the server. Responses are delivered back to their email Inbox. This feature is enabled by licensing and deploying the fully integrated IceWarp SMS Server.
Deleted Items Recovery
Users can see their deleted contacts, events, tasks, etc. in WebClient in case they need to restore any item. This functions the same as the "Trash" folder for mail messages. Administrator can set for how many days the deleted records will be kept.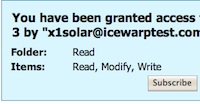 Share Subscription with Notifications
When a user shares out something to anyone else they will receive an ACL notification email with Subscribe/Unsub­scribe buttons to quickly subscribe this new share without having to do any additional steps. Users are able to subscribe selectively to only a one single shared item or to all folders.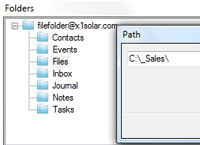 Server File Folder Mapping
With just a few clicks, administrators can map physical file folders on the server, making it visible to other people in the group who are using WebClient. This allows users to securely access documents and other files located on the server or file share.
Integrated RSS Reader
IceWarp's WebRSS Reader lets users track any RSS feed. This gives companies the power to intelligently deliver internal memos by avoiding the need to send multiple email messages to the entire staff.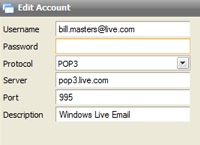 POP3/IMAP Client
WebClient lets users download messages from multiple external POP3/IMAP servers. Administrators maintain full control of this feature, enabling and disabling it at will and managing user access to it.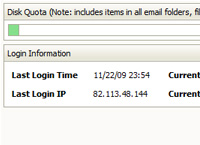 Customizable Personal Homepage
WebClient's native homepage provides unique usage data for each user, including last login time the last used IP and used disk quote. The server administrator can customize the homepage, creating unique HTML content and customized application.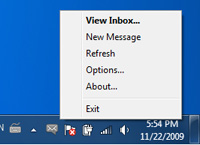 IceWarp Notifier – WebClient As Default Email Client
IceWarp Notifier makes WebClient the default email client in Windows, evoking IceWarp WebClient whenever a hyperlinked email address is clicked. Plus, using a customizable sound and systray pop-up preview, it instantly lets users know when new email arrives, even when WebClient isn't running.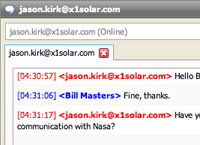 IceWarp WebIM – Web Instant Messaging Client
Instant Messaging functionality is immediately available to all users via the IceWarp WebIM, which is built directly into IceWarp WebClient. IceWarp WebIM provides users with mobility, full archiving and unified search history with zero-configuration. WebIM's Roster provides users with powerful "click-to" capability including Click-to-email, Click-to-IM, Click-to-call, Vcard Access and user-to-user secure file transfer.