IceWarp Instant Messaging Server – Real Time Business Communication & Presence
IceWarp Instant Messaging Server combines the advantages & personalization of 100% spam-free social chat, with the security, unified management, archiving & search features required by businesses. With an optional transport to public services, users can reach their buddies on virtually any public network including AIM, Google Talk, & MSN.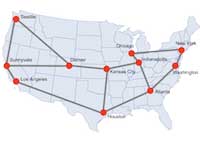 Distributed Network Architecture
IceWarp Instant Messaging Server's imple­mentation is based on the open-standard, IETF-approved, XMPP (jabber) protocol, making it capable to interconnect users across separate servers, geographically dispersed locations, & public services like Google Talk, Jabber.org & others. Support for SSL encryption, & access control & privacy lists; contribute to security & flexibility of deployment.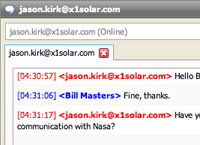 IceWarp WebIM – Web Instant Messaging Client
Instant Messaging Server functionality is immediately available to all users via the IceWarp WebIM, which is built directly into IceWarp WebClient. IceWarp WebIM provides users with mobility, full archiving & unified search history with zero-configuration. WebIM's roster provides users with powerful click-to capability including Click-to-email, Click-to-IM, Click-to-call, Click-to-SMS, vCard access & user-to-user secure file transfer.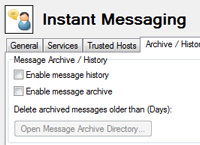 Unified Archive, Search & History
IceWarp Instant Messaging automatically archives all private & public IM communication in a unified central archive at the server, regardless of the device used, ensuring Sarbanes-Oxley compliance. Users can centrally access & search all instant messaging communication via the IceWarp WebIM search history, which is fully integrated into IceWarp WebClient.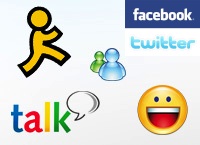 Centralized Public IM Network Gateway
Through the IceWarp integrated Instant Messaging public gateway, users have the ability to chat with any other user on any other public network including AIM, ICQ, MSN, Google Talk, Yahoo networks, Novell GroupWise, QQ, SIMPLE, Apple Bonjour, IRC, SILC, Sametime, Gadu-Gadu, Jabber.org, MySpaceIM, Nokia Ovi, Facebook, Twitter & more- within the comfort of their favorite desktop, mobile or web-based client (multi-protocol support not required).